We Buy Community Bank Stocks. Should You?
You might say that Cutler has a head start in the world of buying community bank stocks. After all, our founder, Mel Cutler, was starting his own local banks well before he founded Cutler Capital Management.
We like community banks because we find undervalued companies with favorable characteristics. These include strong management, engaged long-term local stock ownership (which reduces volatility), and attractive dividends. In addition, there is a powerful ongoing consolidation trend in the industry, which has contributed significantly to Community Bank investment returns.
To read the entire whitepaper, please fill out the form on this page.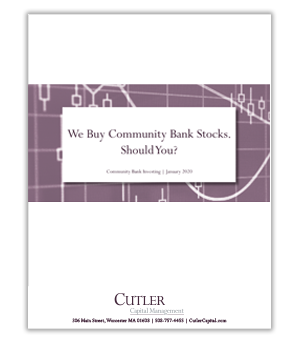 Please enter your information below to download the whitepaper.