Stock Market Volatility Complicates Investment Advice
Worcester Business Journal – July 2020
It's been a worrying few months financially since the coronavirus pandemic hit in March – and that's for those who've kept their job or their business in operation.
A recession began in February and worsened quickly when businesses were forced to close in an effort to curtail the spread of the virus and sent the stock market plummeting – only to rise again, erasing most of the loss.
That's created a whiplash-like environment for investors, forcing wealth advisors to switch to the safe haven of cash and for accountants to try navigating business clients through the volatility.
"It's been a period of significant uncertainty," said Michael Hogan, the managing director of the wealth advisory team at Cutler Capital Management in Worcester. "I'm stating the obvious."
In case it hasn't been obvious, that uncertainty is backed up in data. A volatility index by the Chicago market analysis firm Cboe placed March at nearly an all-time high, second only to October 2008 during the last financial crisis.
That's spurred Cutler Capital Management and another Central Massachusetts financial management firm, Provo Wealth Management Group of Shrewsbury, to put more of their holdings into cash, a safer bet during a rocky period.
"We've hit the highest cash position we're going to have in our career, and that's been the case since February," said Christopher Provo, the president and CEO of Provo Wealth Management Group.
Others are doing the same, even as the stock market has generally been on the upswing since the federal CARES Act was put into place with roughly $2 trillion to help prop up the economy, along with additional lending by the Federal Reserve. The amount of money worldwide held in money market accounts, which are very low-risk, jumped by a third in a two-month span starting in mid-February, hitting nearly $4.8 trillion, according to the London-based Investment Company Institute.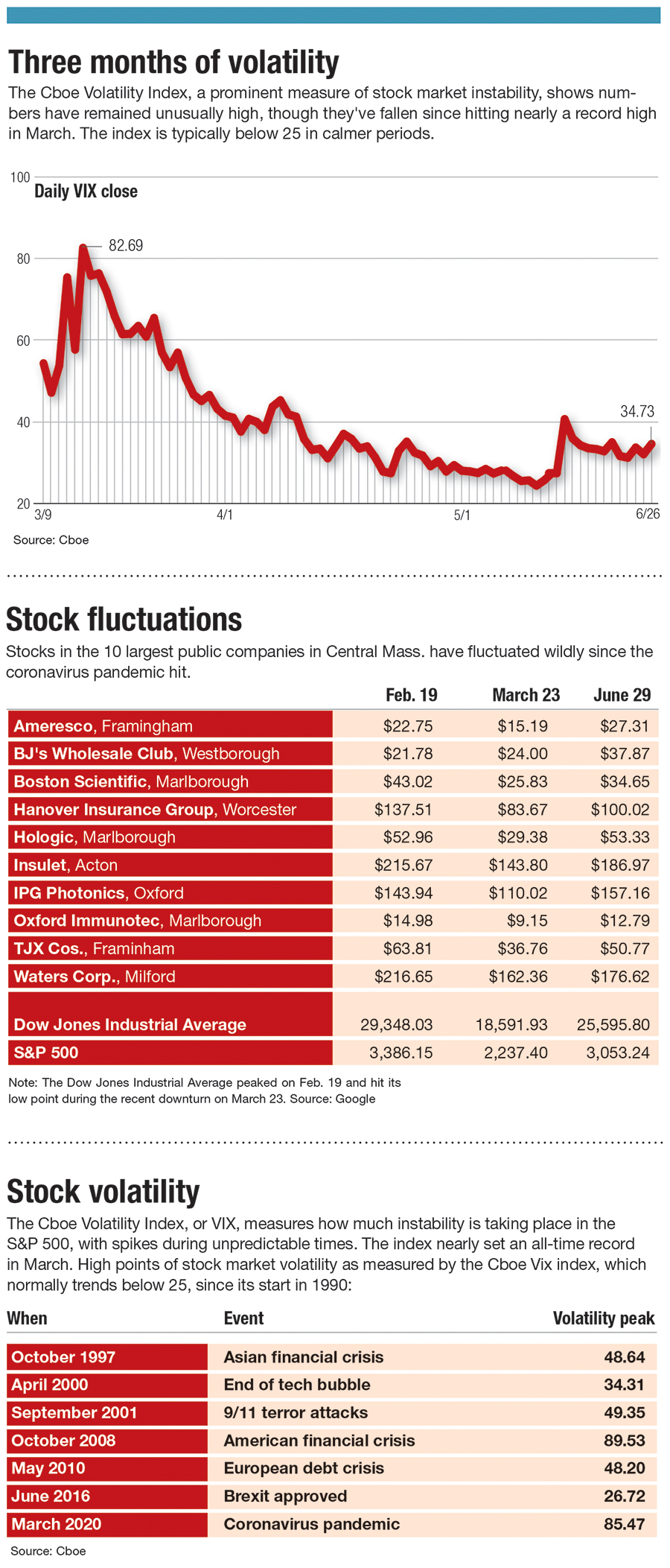 The market has had such turbulence in early June the S&P 500 regained the roughly one-third of value it lost in March, turning positive for the year. The S&P and Dow Jones Industrial Average fared slightly worse as June went on, as virus cases spread rapidly in states including Florida and Texas.
In fact, some of the larger public companies in Central Massachusetts have higher stock prices today than when the Dow peaked in February, including Ameresco, a Framingham clean energy company, and BJ's Wholesale Club, a Westborough retailer whose business has benefited from more people dining and working from home.
"There clearly is a disconnect between what's going on on Wall Street and what's going on on Main Street," Hogan said.
Managing an Unprecedented Market
Financial experts have been in close contact with worried clients for months, answering questions and calming nerves about what's happening with their investments.
"We're preaching caution," said Geoff Dancey, managing partner and portfolio manager at Cutler. He's been reminding clients to keep a longer-term view when they can. "The standard advice is always to stay the course."
The stock market, however, has made giving solid explanations difficult, Provo said. The market has gone up despite tens of millions of Americans out of work and a pandemic ballooning to more than 2.5 million cases in the United States and more than 130,000 deaths.
"They're looking for guidance," Provo said of clients, "which is challenging to give in this environment."
A solution, at least for now, has been to put more of clients' investments into cash to cushion them from market shocks.
"Our goal long-term is to put people in a position to get the upside and protect the downside," said Pedro Silva, an investment executive at Provo Wealth Management Group. "There's a way to do that if it's not just stocks and bonds."
Investors still clearly recall past crises, which compounds anxiety, Silva said.
"A lot of clients go back to the Great Recession, and ever since then they've looked forward to, 'When is the next one?'" Silva said. "People are still reeling from that and they don't want to go through that again."
Experts see reasons for caution ahead, including more business closures in regions hardest hit by the pandemic now and second-quarter corporate earnings reports on the horizon potentially showing continued anemic revenue.
"Even those who've kept their job, there's still a degree of uncertainty here," Hogan said. "Nothing's guaranteed."
Provo is also looking ahead to potential further action from the Fed and upcoming quarterly earnings reports, particularly their guidance for the following quarter. Many companies withdrew previous guidance because of such uncertainty, including Boston Scientific and Hologic, both public companies based in Marlborough.
"You'd expect earnings-per-share to be down," Provo said, "but what do you expect next quarter?"
There's been one silver lining: People are saving far more money than before. The personal savings rate hit 32% in April, according to the Federal Reserve Bank of St. Louis. Since such records began in 1959, the rate had never before exceeded 17%.
Guiding Firms Through the Turbulence
Janice O'Reilly, a certified public accountant at the Westborough firm AAFCPAs, has been working to help her clients – small and midsized businesses – figure out how best to deal with an economic hit unlike anything they've experienced.
Some businesses have needed guidance whether or how to use benefits under the CARES Act, or whether furloughing or laying off workers is the right decision. O'Reilly has run pro-formas to show companies what their cash flow may look like in different scenarios.
"Our focus is really on helping businesses recalibrate," O'Reilly said.
Analyzing the finances of Central Massachusetts companies gives O'Reilly a unique insight into the viability of many of them to survive longer-term.
She said she's mostly optimistic about companies that have been most flexible in their operations and those with a dedicated team to overseeing coronavirus-related issues, including employee safety and cybersecurity at a time when many employees are working at home.
She's heartened by flexibility some firms have shown when business partners aren't able to meet their payments.
Still, so much uncertainty remains, including whether another federal aid package is possible, O'Reilly can't tell her clients for sure what their future may be like.
"There are just so many unknowns, and here we are months into it," she said of the pandemic-inflicted economy. "Some of it is getting clear, but a lot of it isn't."
By Grant Welker